If you do enough bike riding in the North Penn area, you will, on occasion, discover unexpected connectors between neighborhoods. These connectors magically unlock previously unknown options for getting around, sometimes only available to bikers and pedestrians. Upper Gwynedd, my township, has a number of these, which I am familiar with from biking, running and walking. I probably should not be surprised when I find connectors elsewhere in the area. My latest discovery (which many locals already knew about) is in Towamencin Township.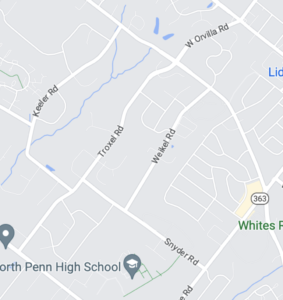 While doing some planning for an upcoming Bike North Penn community ride, I was perplexed that the neighborhood behind the Allen-Forge shopping center was somehow locked in, with no access in or out of the neighborhood except via Valley Forge Rd or Allentown Road.
Similarly, I was thinking about access to the North Penn High School campus and the bike share available to residents at nearby Forge-Gate Apartments. Was there no way for kids living in the Allen-Forge neighborhood to bike to the High School on quiet, neighborhood streets? Would a biker from Forge-Gate Apartments be forced to ride on high-speed Valley Forge Road if they needed get to the the bank, CVS, laudromat, or one of the other merchants at the Allen-Forge shopping center?
After spending some time looking at the map and not seeing any neighborhood street connections over to Weikel Road, I switched to satellite mode and struggled to find any little sidewalk which might run between houses and bridge the creek. I was almost ready to give up when I zoomed in on the Towamencin pool complex. There I noticed, between the tree cover, what looked like a paved driveway deadending into a playground behind the pool – which I had never noticed before when driving or even biking on Weikel Rd. I took a quick ride over there and sure enough, there are two paved paths wrapping on either side of the pool, passing through the playground and connecting with a simple, short sidewalk leading to Woodlawn Drive, near the intersection with Nash Ave – for people and bikes only – no cars.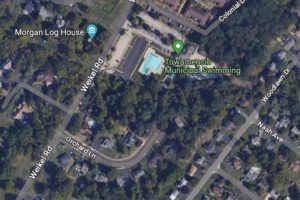 And so now the secret is out. Kids in the Allen-Forge neighborhood wanting to bike to the High School can use Woodlawn + Pool Connector + Weikel to get down to Snyder and access the school campus. Forge-Gate residents as well as other neighbors can use the same route to take quiet streets to the Allen Forge shopping center. They can even take Woodlawn further as an ideal, aligned crossing of Allentown Road to more easily reach merchants like the Lidl grocery store via Columbia Ave.
As useful as the connectors are in the North Penn area, none of them are well marked and very few show up on maps. The region needs a better way to call out these connectors, as they are often keys to creating bike routes on quiet streets between neighborhoods and having alternatives to hopping in the car for short trips.