Though it was on the cool side, the sun shown down on our ride and kept the temperatures feeling moderate. What is also important to know, is we are not the only cyclists out on the streets. It was fantastic to see people out and about getting around on bicycles, as well as more than one parent with young children teaching them how to ride bikes.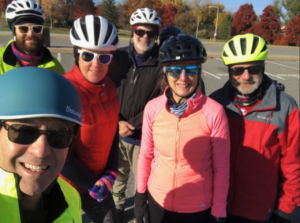 The goal of this ride was not just about relaxation, exercise and visiting with friends. It was all that, but it was also a demonstration of how to navigate between quiet neighborhoods, crossing over several busy main roads, and lacing a route between Towmamencin Township, Hatfield Township, Lansdale Borough and back. We would connect to several common destinations on this route to show the bike as a viable alternative to autos.
We started in the parking lot of North Penn High School, and made our way via a cut-through path to Snyder Road. After turning onto Weikel Road and riding down to the Towamencin Pool, we utilized a second cut-through around the back side of the pool, through a small playground to emerge on Woodlawn Drive. (also note Snyder Rd. and Weikel Road are part of the Towamencin Trails – which are not off-road trails, but rather designated on-road bike routes) This move over to Woodlawn was crucial to our route, because this street crosses the busy Allentown Road with a traffic light and then keeps going. Once we were through the bustling intersection we made our way through the neighborhood on the other side and arrived at the Lidl grocery store – demonstrating  there is a quiet street route to and from the high school as well as an important destination like a grocery.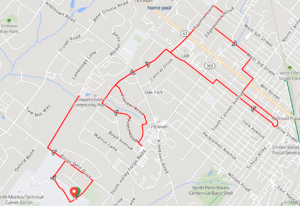 Next up was crossing Main Street / Welsh Rd, which we did using the light at Oak Blvd / Squirrel Lane. At this point we took a brief detour through the Oak Park neighborhood because it was looking so pretty with the trees in full color and the leaves on the ground. After getting back onto Squirrel Lane, we went a bit off the route and rode up to Edgemont Avenue, which we used to round back down to West Third Street. This street was chosen because it goes all the way back through to downtown. Taking West Third Street did involve crossing North Valley Forge Rd. where we needed to be careful due to less-than-ideal sight lines. Instead of taking Third Street all the way to the end, we made our way to North Cannon Ave, where we used the traffic light to again, cross Main Street.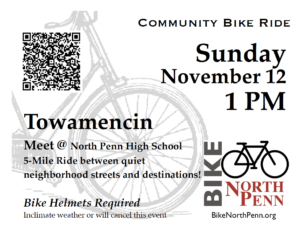 Turning left on Durstine Avenue, we proceeded to the vicinity of the Lansdale Public Library – thereby demonstrating there are ways to move about downtown Lansdale to common destinations on Main Street and side streets, like the Library or the post office. We took Columbia as our route back, with only one stop sign between Susquehanna Ave. and Valley Forge Road. Columbia is aligned on both sides of Valley Forge Rd, though it does not have a traffic light, so we waited for a good gap between cars  to cross and then headed back to Woodlawn which got us back across Allentown Rd.
Rather than going straight back to the High School, we pealed off on Pioneer Rd., then took Nash Avenue to Swartley Rd. to enter the back side of the Allen-Forge Shopping Center demonstrating to the group a quiet way to get to a bank, a drug store or pick up a slice of pizza or a taco.
From there it was Pross Rd. back to Nash Avenue which brought us back to Woodlawn near the playground cut-through which connected us back to Weikel Rd, where we paused for a moment to take in the Morgan Log House. Weikel on the return required a slight hill climb to get back to Snyder Rd. and then ultimately onto the North Penn High School campus.
Logistics of finding routes from your home to local destinations:
Look for cut-throughs which might be available only to bicycle or foot traffic. These exist in all of the North Penn municipalities. Sometimes these involve parks or school yards, sometimes it might in involve the parking lot of a local business or commercial area. Online tools like Google Maps will sometimes show these cut throughs and sometimes they won't.
If you need to cross a main road, look for intersections with traffic lights and where the streets align on both sides of the road. Be aware sometimes local roads change names when passing through an intersection.
If a traffic light intersection is not available near your route, then at least find an intersection where the road alongs on both sides of the street you want to cross. Look both directions both times before crossing. Also try to have your lead bike pedal in the  "3 o'clock" so its ready for you to put your weight on it and start your bike moving.